Michael Andrade Introduction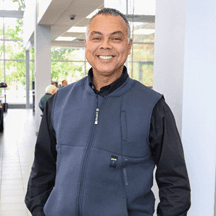 We would like to introduce the newest member of our BMW of Ridgefield family, Michael Andrade! In his new role as Body shop and Collision services Manager, his main goal is to exceed all body shop expectations. With over 30 years in the automobile industry, he brings exceptional knowledge and unique skill set to BMW of Ridgefield.
Michael was born and raised in Kingston Jamaica in the West Indies, and is now resided in Dutchess County with his Wife and 4 kids.
Michael started working for BMW back in 1980 and started as a Prep Manager, who then moved all around, including Foreign Car Clinic in Dobbs Ferry NY. Then moved on to Mercedes Benz and worked as a Service Advisor. He came back to BMW of Ridgefield because "the people that work here are one of a kind, the friendships he has made over the years are life lasting. BMW really takes care of its employees."
Michael has always been a BMW enthusiast, he says "BMW really gives you the best of both worlds, exceptional luxury and insane performance."
Michael used to be a part of the BMW car club and raced on the Bridge Hampton race track, as well as the Limerock race track. Now he loves to spend his time Fishing.