Joseph Cecere Introduction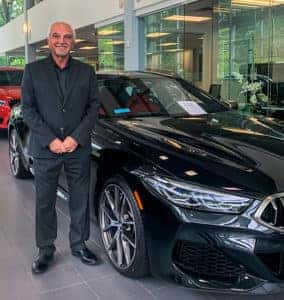 BMW of Ridgefield is pleased to announce that Joseph Cecere has joined our sales team.  Adding him as a Client Advisor allows us to further develop customer relationships while maintaining the highest level of customer satisfaction.
Joseph started his automotive career in 1979 with a small mom and pop repair shop in Huntington, Long Island, where he was raised. There he built a passion for cars and knew that the automotive industry was the right fit for him.  After selling his shop, he moved to Greenwich, Connecticut. His career began with Mercedes Benz of Manhattan, where he was a Client Advisor then moving closer to home and working with Mercedes of Greenwich.  His Last 7 years were with Mercedes of Danbury before BMW of Ridgefield.
Joseph, now resides in Danbury, Connecticut, says he jumped at the opportunity to join BMW of Ridgefield, a six time Center of Excellence BMW dealership. "I was incredibly impressed to learn about the Center of Excellence achievements and more impressed to learn that in 2017 BMW of Ridgefield was ranked as the #1 BMW dealer in the country."
After 21 years in the Highline automotive sales market in Fairfield & Westchester County and surrounding communities, Joe says he simply fell in love with the BMW brand. "I'm excited to meet new people and put smiles on their faces when purchasing their BMW.  My goal is to satisfy your driving needs for a lifetime," he says.