GET A VIEW OF THE NEW 3 SERIES AT BMW OF RIDGEFIELD

The BMW 3 Series has been consistently voted the best small car line in the world for many years. The reason for the stunning success of the 3 Series line is the fact that the cars perform admirably while retaining the style and panache that is the trademark of BMW vehicles.
The 3 Series aims to mix luxury with performance wherever possible. This means that the suspension that comes standard with the 3 Series is air-glide soft. There are also multiple "racing" modes for the vehicle that can help to improve performance. All safety features found on other BMW models come standard on all 3 Series. This includes lane assist, parking control, snow/cold weather protection and snow traction settings.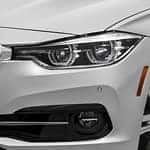 Get a View of the new 3 Series? Visit our showroom in Ridgefield today!