BMW 4 SERIES OVERVIEW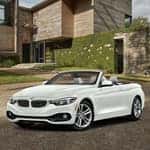 While some car makers seem to put out vehicles with large engines built on weak foundations, the engineers at BMW have solved this problem with their presentation of the 4-Series family of vehicles. The BMW 4 Series includes a suspension system driven by adaptive sensors, a powerful motor, and user-friendly interior amenities.
On the chassis front, the BMW 4 Series includes xDrive capability. This design uses stability sensors that can recognize tire slippage and activate the brakes in response. In addition, the xDrive system includes the adaptive-M service that uses computer-controlled dampers to quickly adjust to the road conditions and the behavior of the driver.
Powering this suspension system is the available 320-horsepower, 6-cylinder BMW engine. The 4-Series motor includes direct fuel injection as well as TwinPower Turbo enhancement.
The interior amenities of the 2018 BMW 4 Series are as comfortable as the engine is powerful. 4-Series passengers are kept cozy by the neck warmers placed in the available leather upholstery seats. Navigation and connectivity services are just a voice command away in the touch screen equipped BMW navigation system.
Here at our facility in the Ridgefield region, we are happy to stock a number of BMW 4 Series sedans for your test driving pleasure. To enjoy your very own BMW test drive, stop by BMW of Ridgefield today.